Online Petition to NHL Board of Governors

Video: Misconceptions About Atlanta and the NHL




Keep the Thrashers in Atlanta


If the new owners of the Thrashers put a championship team on the ice, you can bet Atlanta fans will come out in big numbers. Why? Atlanta fans have had little to cheer about in any sport. In fact Forbes recently rated Atlanta #2 on the
Most Miserable Sports Cities
list. How did Atlanta make the list? Our pro teams have played a combined 153 seasons and have produced only one championship – the 1995 Braves. Atlanta will support a winner, any kind of winner, including a hockey team. The upside for the Thrashers is significant, especially if we can get a committed ownership group.

We believe Atlanta's business and civic leaders, like Mr. Blank and Mayor Reed, can partner with NHL Commissioner Gary Bettman to find investors who will keep the Thrashers in Atlanta. Will Atlanta's leaders step up and fight or will they stand idle as Canada steals a valuable source of jobs, pride, and revenue for the entire State of Georgia? We believe they will fight for Atlanta.
An Open Letter to Atlanta Civic and Business Leaders:
It is no longer conjecture that the Thrashers might leave Atlanta. This was confirmed by Michael Gearon, one of the principal owners of the Atlanta Spirit in the February 16, 2011 edition of the Atlanta Journal Constitution.
The City of Atlanta needs your help. We are a proud "Major League City " with four franchises; three of which are thriving but there is one in need of some immediate help. The Atlanta Thrashers need some new investors or an individual capable of purchasing the franchise. Arthur Blank did a superb job in transforming the Atlanta Falcons from being irrelevant to a vital and important part of our community. He demonstrated his civic pride in a very real way and applied his business knowledge to make the Falcons a premiere franchise.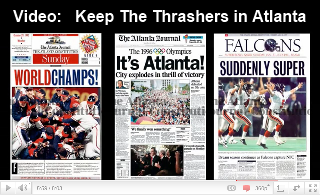 Mr. Blank was able to defy the skeptics by turning an unstable franchise into a profitable winner. At one point, in their less than proud pre-Blank history, the Falcons were rumored to be moving to Jacksonville. Mr. Blank's initiative and skills saved the Falcons and made us proud of our team and our city. In order to to retain a valuable community asset, we need to find a person or persons who have the capability to do the same for hockey.
My father and I, along with my brother, spent countless hours talking about, and attending Atlanta Flames games when I was a kid. I was twelve years old when the Flames packed their bags for Calgary. I, like countless little hockey fans in Atlanta, was heartbroken when the 'Flame' was put out in 1980. I cried when the Flames left. The heralded coming of the "Ice Age" ended abruptly and was a blow to our civic pride.
There is a real possibility that within a few short months, our civic pride will be hurt again and thousands of young hockey fans will cry when they find out there will be no Thrashers games to attend anymore with their fathers and mothers. Atlantans have an opportunity to save hockey in our hometown. Our beloved Atlanta Thrashers, of the National Hockey League, are in desperate need of a hero. Leaders have an opportunity to perform heroic acts for our city and thousands of kids; kids who would be heartbroken should their parents have to tell them the NHL's Thrashers are moving to Winnipeg, or somewhere north of the border.
The history of the Thrashers and Atlanta Flames is well documented, but a few points may help you understand why an NHL franchise in Atlanta is a diamond in the rough, waiting to be polished by a well-respected, proven, and capable owner. How can anyone say Atlanta is a bad hockey town? There has been little to cheer about. The Flames never won a playoff series in eight years. The Thrashers have never won a single playoff game; in fact, the Thrashers have only made the playoffs once in their history. If the Falcons did not have their winning seasons and playoff appearances, we would in all likelihood return to the days of local TV blackouts.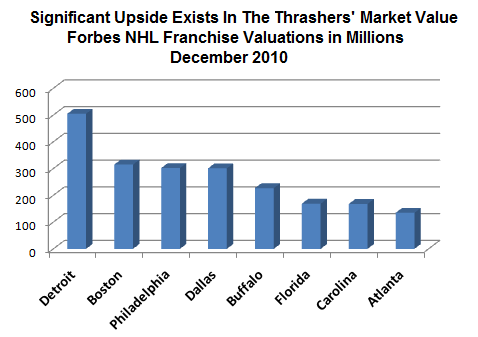 Philips Arena was packed to the rafters for the Thrashers' playoff games despite being swept by the New York Rangers. There was rampant fan enthusiasm. The fans were in their seats ten minutes before the puck dropped chanting, "Let's Go Thrashers!" Imagine that, Atlanta sports fans arriving for a game early!
"You can talk all you want about whether or not Atlanta is a good hockey market. When you don't win any playoff games for a decade, the market isn't the issue, it's the team."
Scott Burnside, ESPN.com, February 2011
The NHL does not want to lose the eighth largest TV market in the United States. The ongoing, sad, and litigious history of the Thrashers' current ownership group has contributed to the alienation of the local fan base. The Thrashers have operated on a shoe-string budget trying to remain competitive with the 29th lowest payroll in a thirty-team league.
Perhaps with some shrewd negotiating and assistance from Gary Bettman, Commissioner of the NHL, the Atlanta Spirit would be willing to sell the team at a very reasonable price to keep the team in Atlanta.
"If Atlanta loses its second NHL franchise, it won't be because the sport failed here. It will be because ownership and management failed."
Jeff Schultz, AJC, January 2011
Current Thrashers GM, Rick Dudley, has been enhancing the roster for less than two years. Mr. Dudley helped build Stanley Cup teams in Tampa Bay and Chicago. The Thrashers are a truly undervalued asset. Imagine what the Thrashers will be worth after Rick Dudley builds them into a Stanley Cup contender. Imagine the faces on the kids in Centennial Park when they get to have their picture taken next to Lord Stanley's Cup. Both the Carolina Hurricanes and Tampa Lightening have won the Cup – why not Atlanta? Local leaders and fans, we can help make it happen.
"Dudley, widely acknowledged as one of the best judges of hockey talent in the game, figures the Thrashers have 14 pieces "of what could be an elite team."
Scott Burnside, ESPN.com, February 2011
The building blocks to increase the value of the Thrashers are in place. The Thrashers, in addition to having a well respected GM, have a coach, Craig Ramsey, who is held in high regard by his peers. The roster includes some young and budding stars, like Evander Kane, Alexander Burmistrov, Zack Bogosian, and Ondrej Pavelec in goal. Philips arena is already in place and remains one of the best hockey venues on the planet when comes to the sightlines for fans.
"We've shown that we can be a good hockey team. I know we're going to be a very good team."
Rick Dudley, ESPN.com, February 2011
Obviously I am an ardent hockey fan, but I am merely one of many. Beyond the fan appeal I am a businessman and there is a desire on my part to avoid the specter of losing two NHL teams in the span of 31 years. This would not enhance Atlanta's image or our belief that we are truly "Major League" by having four major sport franchises. If the Thrashers depart, our ice rinks will eventually close as they did when the Flames left. This would be a devastating blow to youth hockey programs.
"One thing I do know is whether they sell part of the team, all of it, whatever, we can make it a much more viable product for whomever."
Rick Dudley, AJC, February 2011
I realize the successful lives and careers of Atlanta's leaders results in receiving many requests involving their time and money. Hopefully, they will see some merit in my proposal from both a civic and investment point of view. Since time is of the essence, we have provided an outline of a "Five Part Plan to Keep the Thrashers in Atlanta". The plan calls for Atlanta's leaders to follow in the footsteps of great Atlanta leaders, such as Henry Grady, Martin Luther King, William Hartsfield, Ivan Allen, Jr., and Andrew Young.
Sincerely,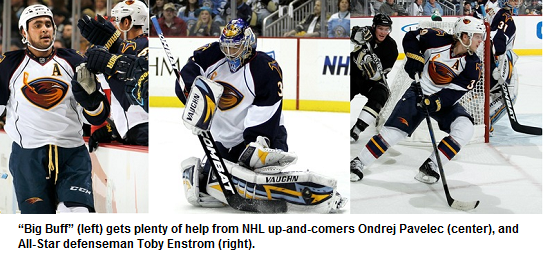 Negative Impact on Youth Hockey
When the Flames left for Calgary, youth and adult amateur hockey programs suffered and rinks closed. At the lowest point, we had to practice and play our youth hockey "home" games in Chattanooga, TN. Such was our dedication and commitment to the game. Youth hockey and adult hockey programs are thriving today in Atlanta, providing another source of parent and child interaction, not to mention a great source of exercise, and a healthy way to relieve stress. Youth hockey programs predictably will suffer if Atlanta loses our NHL franchise.
Countless hockey players around the globe remember, with great respect and admiration, our "hockey moms and dads" getting up routinely at odd hours to take us to a 5:45 a.m. practice or game. Hockey, like football, helps build relationships, and builds character in young men and women. Leaders learn to lead in pee-wee hockey games. One of my pee-wee hockey teammates is currently the GM of the NHL's Minnesota Wild – I own my own money management firm. America needs all the leaders it can get in today's razor-thin margin, and ultra-competitive world.
Where can we get tickets? See Single Game on Right Side of Page

Keep the Thrashers in Atlanta! - You Can Help Save The Thrashers!