Five Part Plan to
Keep the Thrashers in Atlanta
This plan was forwarded to Atlanta's leaders in mid-February 2011. If a plan like this had been implemented months ago, we may have been able to keep our team. There still may be time to act.
Atlanta was built from the ashes by great leaders who led with conviction, including Henry Grady (brought us "The New South", Georgia Tech), Martin Luther King (gave us "The Dream", Civil Rights Act) , Mayors Andrew Young (brought us the Olympics), William B. Hartsfield (brought us the International Airport) and Ivan Allen, Jr. (brought us the Braves, Falcons, Hawks). Imagine, what would Atlanta be without these institutions? These were men who defined leadership in Atlanta and the New South. We are confident that Atlanta still has leaders who will rise up and begin implementing a plan to save the Thrashers.
Part One: Press Release Phase
The NHL Commissioner, NHL Board of Governors, and the Atlanta Spirit Group may be working on a short time frame relative to moving the Thrashers; it is probably closer to two months than two years. Consequently, they are looking for some signs of commitment from Atlanta leaders.
If leaders, like Mayor Reed and Governor Deal, issue statements early next week along the lines of "we are committed to working with the NHL and Atlanta Spirit Group to explore options to keep our Atlanta Thrashers right here in Atlanta", it will assure the NHL Board of Governors Atlanta is committed to keeping its "Major League" status. Similar statements can be made by the ACVB, Atlanta Metro Chamber of Commerce, and the Atlanta Sports Council. This will quickly reinforce Atlanta's commitment to partner with the NHL and the Atlanta Spirit to find a solution.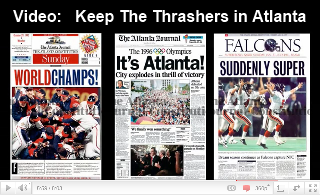 Part Two: Rolodex Phase
Atlanta leaders pull out their Rolodex and start making some calls to other influential people in the Southeast. These calls can be made by the leaders mentioned above, along with executives from Home Depot, UPS, Coca-Cola, and Delta. Prominent Atlantans, such as Truett Cathy's family, Arthur Blank, Bernie Marcus, Ted Turner, and Tom Cousins can also participate in part two. This phase can help identify leaders who are willing to help build a strategic plan to get the Thrashers on sound footing.
Part Three: Leaders Meeting
Sam Williams, President of the Atlanta Metro Chamber of Commerce, can host a meeting of the leaders who are willing to help keep the Thrashers in Atlanta.
Part Four: Intermediate-Term Solution
It is important the Thrashers play in Atlanta next season. This will give us time to find a permanent solution in the form of stable and committed ownership of our National Hockey League franchise
Part Five: Long-Term Solution
If we can get to step four, Atlanta will have at least six to nine months to find permanent owners for the Atlanta Thrashers.
Atlanta needs its leaders to lead right now. If the leaders step up, and begin implementing the five part plan to keep the Thrashers in Atlanta, we can move closer to keeping the title of "Sports Capital of the World", as coined by the Metro Atlanta Chamber of Commerce.
According to the Central Atlanta Progress website:
Atlanta has been coined the "Sports Capital of the World," and it certainly prospers with activities designed for sports enthusiasts and leisure fun to pass the day. Sampling these happenings is easy and well worth your time to delve into the world of active Atlanta. Year-round, rain or shine, we've got something for you to do. With our major sports teams, not to mention outstanding facilities such as the Georgia Dome, Turner Field and Philips Arena, it is clear that Atlanta's sports are prevalent and exciting.
About the Atlanta Sports Council:
The Atlanta Sports Council promotes the value of sports growth in Atlanta and Georgia by acting as an authority on the economic impact, visibility and quality of life issues associated with sports. Its mission is to lead, organize and support sports development with the goal of building Atlanta's reputation as the sports capital of the world. The Atlanta Sports Council was created in 1985 under the original name of Sports 2000, and is a division of the Metro Atlanta Chamber.